LOL
i was rereading my old posts. XD
and found out that the way i think, speak, write .. uhm.. changed. maybe a bit? a lot? i don't know. i was laughing while reading it. it's what you called "KA-EKEKAN" in tagalog. non-sense. pfft.
now. i'll post again here? even if no one is reading. kekekeke.
i saw some weird comments on my old posts O.O
really weird...
Name ; Feb 02, 09

oh no ur so inocent ,so cool iam really crazy about u,ilove u so much,plz take care ,
WTF?!?! it's scary!!
is it from a stalker or something? XD LOLers. there are others but yea. i won't state it here. xD
it's crazy! i don't know who posted it. but whoever you are, i'm sorry but i'm already in love with kim heechul LOL XD;
and if you're kim heechul, then it's totally fine.
PUHAHAHAH~
*i know maybe it's just some random msgs from random people*
I AM BORED.
i'm not posting in LJ these things since.. ughh. i don't know XD it's embarrassing! i just don't feel like it. but i will still post there. ahhhhh i'm confused.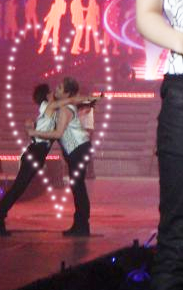 I'M STILL ADDICTED TO KANGTEUK. I STILL THINK OF THEM AS A CUTE AND LOVELY COUPLE. THEY'RE SO HAPPY AND
GAY.
*hey why am i writing in caps? XD*
if it's possible, i want them to get married. and if there's A MIRACLE, i want them to have children of their own. YES. THE TWO THEM. AS COUPLE.
WITH MIRACLE, EETEUK WILL GET PREGRANT. LIFE COULDN'T GET BETTER.
ROFL.LMAO.LOL.
i keep on saying nonsense things XDDD;;
sorry sorry! *bows*
if anyone reads this, please say hello to me at the cbox; so i'll feel like im talking to someone and not just to myself.
*tsk. MISERABLE XD*
EDIT: PAHABOL: RANT as in.
tagalog, yoohoo~
EEEK. NAKAKABINGI NA YANG 'NOBODY'!!!
kahit saan ako magpunta, ayun ang kinakanta, o pinapatugtog.
maganda nga naman un, kc sikat,
pero HELLO! WAG NAMAN EXAJ!
aun nga ung kinakanta nyo, puro naman ung english line! ummmf.
paulitulit pa, ewan ko bakit naiirita ko, pero basta.
sa school kc dati, ako lang ung nagpapatugtog nun, last year pa! nung sikat pa xa sa korea, tapos nwiweirduhan sakin ung mga nsa paligid ko, para bang 'huy anu ba yang pinapatugtog mo di naman naiintindihan, wala ka ba jan rihanna o chris brown?'
sheet. tapos ngaun, hindi ko na xa pinapatugtog, paulitulit nyo naman pinapatugtog.
SAWANG SAWA NA KO. laos na yan sa korea eh xD maxado na kau huli. wooooh
filing nyo naman lam nyo ung sayaw eh puro palakpak lang naman kau XDDD
NO OFFENSE. THIS IS JUST MY OPINION.
saloobin ko lang to na gusto ko ilabas. XD
TAPOS YANG MYXAJGDFJHSJFH!!
NAKUUUUUU!
UNG SORRY SORRY ! AYAN AYAN NAKILALA NA UNG SUJU, *toot*
TT__________________________TT
WAAAAAAAAAAAAAAAAH.
WAG SANA LUMAGANAP UNG PIRATA NILA CD DITO.
DI KO TALAGA LAM MANGYAYARI SAKIN.
BAKA MAGPATIWAKAL AKO.
...
JOKE LANG! XDDD
basta. kairita kc eh -____________________-;
nagiging cheap na ung kpop dito.
dati iilan lang ang may alam.
MAYABANG. MAYABANG.
mayabang na sa kung mayabang,
FAN AKO, MATAGAL NA.
HINDI UNG NAKIKIUSO LANG!!!
woooh tumaas ung bp ko xD aun
*sigh* hahahhah. ok na ko ! pagpasensyahan nyo na lang tong post ko,
naiirita talaga ako.